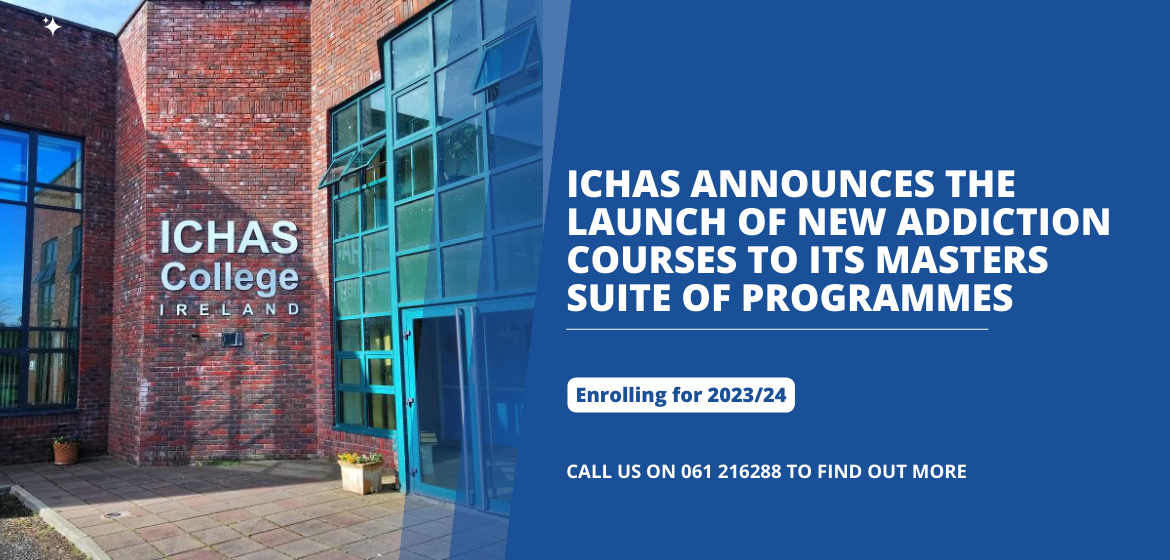 ICHAS Announces the Launch of New Addiction Courses to its Masters Suite of Programmes
The Irish College of Humanities and Applied Sciences is excited to announce the launch of a new suite of Addiction Programmes at Masters level. In combination, they are designed to provide students with the necessary knowledge and skills to address the complex and ever-changing landscape of addiction treatment and prevention.
The M.A. in Addiction Recovery & M.A. in Addiction Studies will join our current M.A. in Addiction Counselling and will provide students with theoretical and practical opportunities for working in counselling within various contexts in the statutory, community and voluntary sectors. The programme has been designed to facilitate students who wish to become professionally accredited by Addiction Counsellors Ireland to meet their pre-accreditation criteria.
"We are thrilled to offer these new M.A programmes, which address a critical need in our society," said Denis Ryan, College President with ICHAS. "Addiction is a complex issue that requires a multidisciplinary approach. Our programmes will equip students with the skills and knowledge they need to make a difference in the lives of those struggling with addiction." Prof. Ryan added that 'the new programmes will supplement the existing programmes that ICHAS has offered to prepare students for professional Counselling accreditation.
The MA in Addiction Recovery is designed to be attractive to two particular groups of professionals. These include health and social care professionals who are interested in acquiring competence in Addiction Recovery Principles and not necessarily in becoming Addiction Counsellors. The second group the new programme should be attractive to existing Counsellors who wish to expand their knowledge and competence at Masters level'.
The new courses will be delivered by a team of experienced and highly qualified faculty members, many of whom are experts in the field of addiction treatment and research. The course covers a range of subjects that are structured to develop competent professional practitioners. The subjects covered are designed to be both practical and theoretical.
"We are committed to providing our students with a comprehensive and rigorous education," said Dr. James Kinane, Programme Director of the suite of Addiction Masters Programmes. "Our graduates will be well-prepared to enter the workforce and make meaningful contributions to the field of addiction treatment and prevention."
ICHAS is now accepting applications for these new programmes for the 2023/24 academic year. Interested individuals are encouraged to visit the ICHAS website for more information on how to apply.
About ICHAS
The Irish College of Humanities and Applied Sciences is an independent third-level college that prides itself on its student-centred approach. The College offers a range of programmes from masters level to short certificate programmes. Our programmes cover an extensive range of disciplines including Childcare, Psychology, Counselling and Psychotherapy. The College provides an academic environment that fosters personalised learning, enabling participants to develop their potential for life and for exciting careers in their chosen field of study.
All ICHAS programmes are accredited and awarded by Quality and Qualifications Ireland (QQI) and are offered at Levels 5 to Level 9 on the National Framework of Qualifications.
Please follow and like us: