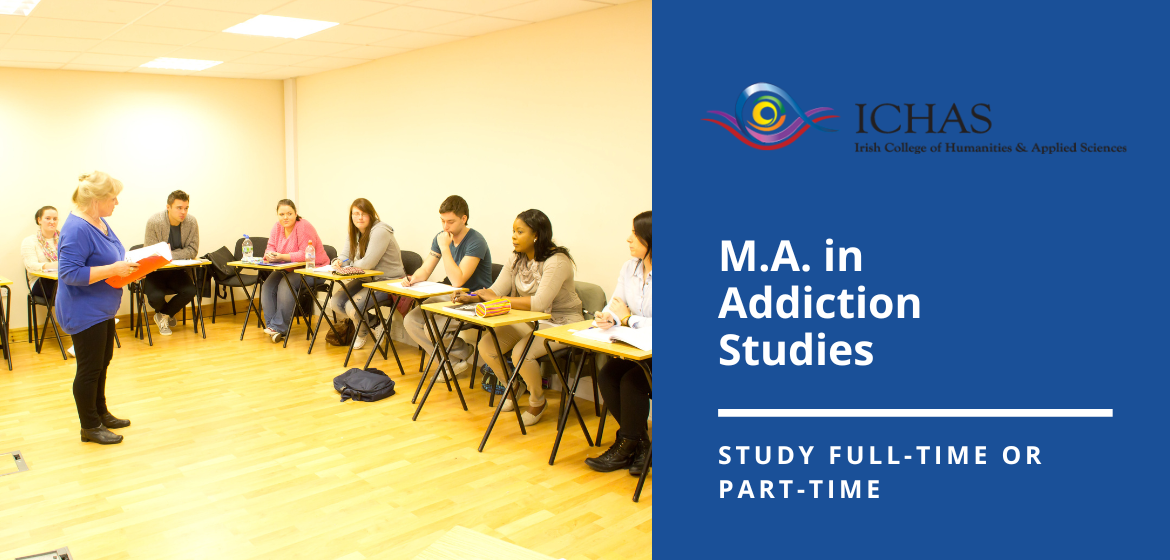 M.A. in Addiction Studies
MA in Addiction Studies
This Master's programme in Addiction Studies is designed for graduates in health and human sciences as well as disciplines such as nursing, social care, social work, psychology and programmes in the cognate area.
This programme will provide students with theoretical and practical opportunities for working in addiction counselling within various contexts in the statutory, community and voluntary sectors. The programme has been designed to facilitate students who wish to become professionally accredited by Addiction Counsellors Ireland to meet their pre-accreditation criteria.
Students will develop the knowledge and skills to become flexible through a positive openness to change. Each student will develop the ability to assess, plan, implement and evaluate professional actions and activities from planning through implementation and evaluative stages.
Equally, the programme is designed to accommodate the educational needs of learners who wish to enhance their skills and apply them within addiction services (including health promotion/preventative services, treatment settings and policy development and implementation contexts).
In the following video Prof. Denis Ryan goes through the key elements of this new masters programme.
Award Title: Master of Arts in Addiction Studies

Duration: 1 Year Full-Time / 2 Years Part-Time

Tuition Fees: 1 Year Full-Time €6,800 / 2 Years Part-Time €7,800

Start Date: Sept 2024
Please follow and like us: