ICHAS is a third-level college that is brimming with life, one where everyone who is involved in the college is made to feel part of the college. Choosing a course of study is one of the most important decisions that you can make and you want to be sure that the course and the college are right for you. At ICHAS we pride ourselves in the support and care we provide to our students which extends beyond academics into all aspects of student life.
We encourage all students and staff also to think outside the box, to extend their personal horizons. As a student, we will encourage and challenge you not just to look at educational attainment but to look at your own life's possibilities and where that may take you. Each student has an individual progression plan which supports them to identify and overcome barriers to success and develop their own individual plan for their unique future.
Even though we are a small college our students enjoy all aspects of college life whether they are studying full-time or part-time. At ICHAS you will never be a number but a unique individual whose journey in life we are proud to support.
We asked students recently about their own experiences here at the college. Here is what they had to say:
'Returning to college as a mature student can be a challenge, however, the support from everyone at ICHAS encourages me to continue further with my studies in the undergraduate degree in counselling and psychotherapy'
Amanda Friel, Certificate in Foundational Skills
'Starting to study again so late in life was terrifying but the lecturers at ICHAS were amazing. They were always available for guidance with coursework, I.T. issues, and how to fit study into already busy lives. Studying with ICHAS has changed my life personally as well as professionally and is one of the best decisions I have ever made
Marian King, BA (Hons) in Counselling and Psychotherapy
'I feel privileged to have been part of this learning experience and equally learning from the lecturers/tutor's expertise, knowledge, wisdom, and vast wealth of experience. I fostered amazing relationships, this has been extremely rewarding with huge self-growth, experience and delighted to say that I no longer suffer from any self-doubt'
Anne Hodgson M.A. in Clinical Supervision
The location of the college as well means you're not too far from some of the great attractions in the mid-west. Whether you're looking to switch off from studying and go outdoors or want to relax in the city there are some great spots to check out.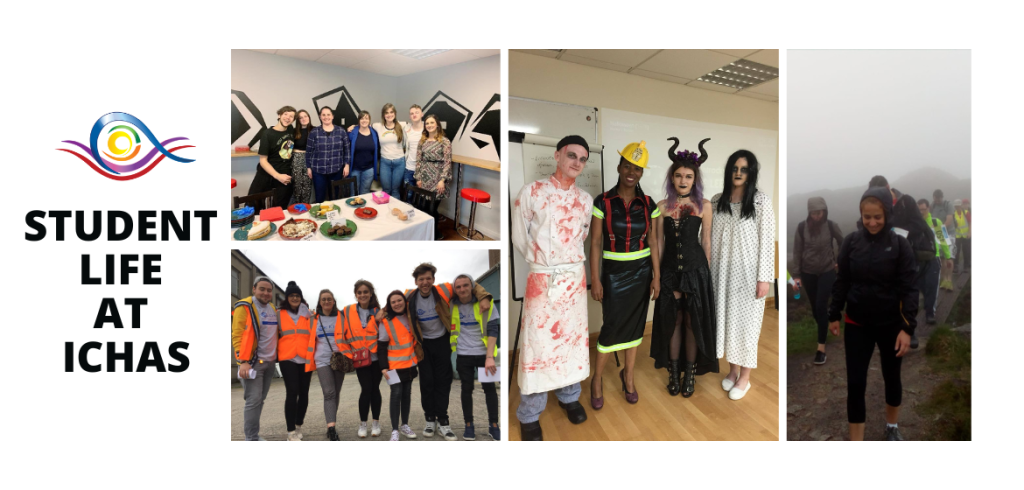 Our Programmes and Courses