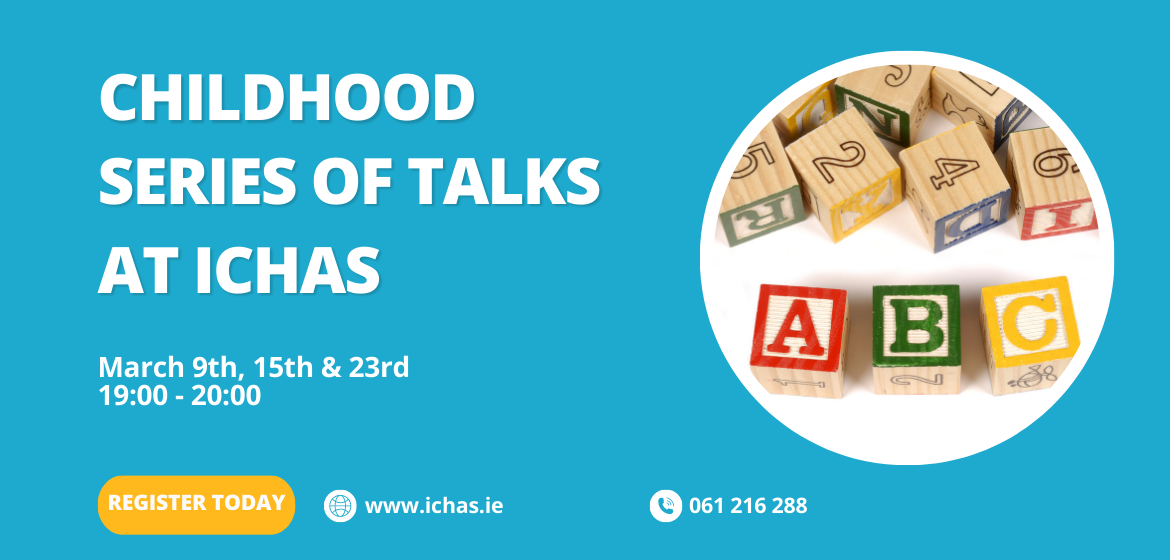 Childhood Series of Talks taking place this March at ICHAS
ICHAS is delighted to announce that we are hosting a series of talks focusing on topics in the area of Childhood Studies. Run online these talks will provide attendees with great insights on some of the key areas within the area. Details on the talks are below, if you want to register check out the events page today.
The Impact of Social Distancing on Partnership with Parents, March 9th from 7 to 8pm
Presented by Tracy McAuliffe this talk will focus on a topic where there is a large body of literature establishing partnership with parents in early years care and education as an essential element of quality provision. Children thrive within supportive and responsive relationships and their development is threatened when instability in their lives leads to stress, the persistency of which can lead to toxic stress. Strong partnerships between parents and ECEC practitioners can alleviate stress experienced by children.
The Extension of Play-based Learning into the Home Learning Environment, March 15th from 7 to 8pm
Presented by Jennifer Hynes the focus for this will be on the findings from major longitudinal studies in the early 2000s found that the home learning environment (HLE) in the early years of the child is a key indicator of educational attainment throughout primary school. Both sets of researchers, in the UK and USA, highlighted the role early years educators could play in supporting parents to develop the HLE. Despite the significance of their findings, the HLE is not a topic which is widely publicised in Ireland.
Updating Aistear – Ireland's Early Childhood Curriculum Framework, March 23rd from 7 to 8pm
Presented by Lorraine Farrell this presentation will outline NCCA's rationale and plans for updating Aistear to ensure that it continues to support high-quality curriculum experiences for babies, toddlers and young children. The presentation will also introduce the National Siolta Aistear Initiative and briefly discuss the Aistear Siolta Practice Guide.
Please follow and like us: