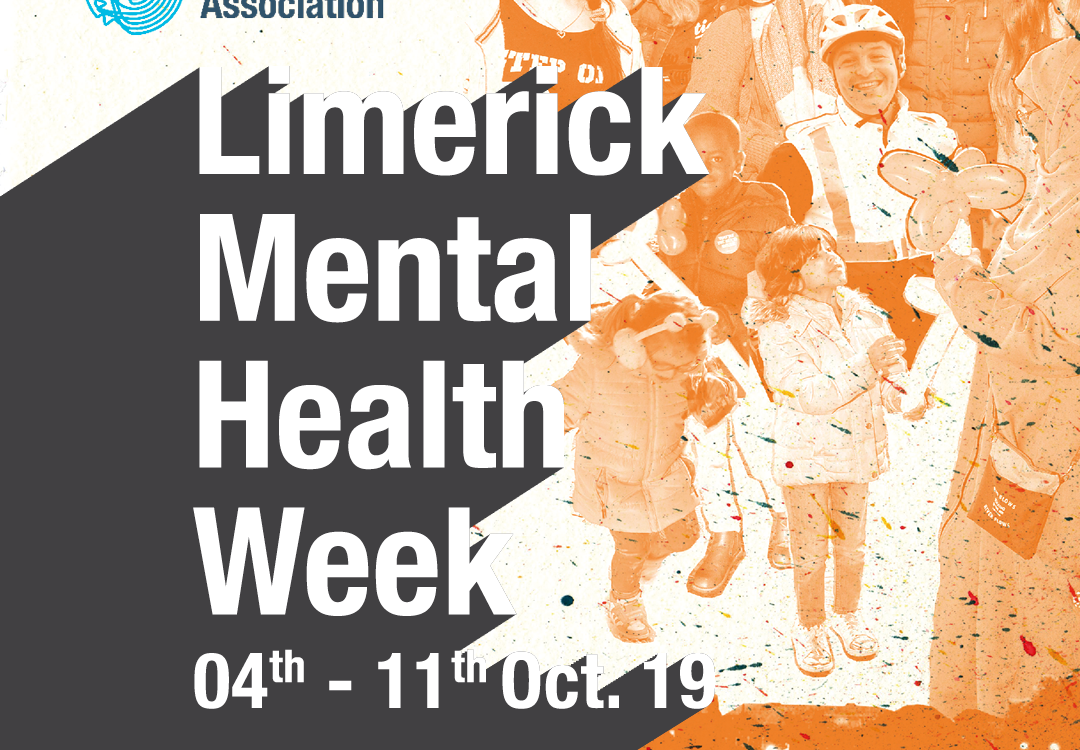 Official Launch of Limerick Mental Health Week 2019
Tuesday saw the launch of Limerick Mental Health Week 2019. Members of ICHAS, along with groups from all around Limerick were in attendance in the Hunt Museum for the launch. Shine A Light On The River will be back again this year and we're delighted to announce ICHAS will also be hosting an event during the week. 
An Event that has Grown and Grown
Taking place from October 4th to 11th and now in its 15th year, it has grown into more than 20 free events catering for all ages & interests. For the LMHA the week stands upon three pillars within the community of Limerick: 
Awareness of Mental Health

Highlighting of services

Collaboration between all of the organisations
Claire Flynn, Project Manager for Limerick Mental Health Association talked about how the event has grown plus how it is of benefit to the wider community.  
"The week aims to promote positive mental health and to raise awareness of the different supports, organisations, and volunteers who are constantly working in this area. The event has grown quite a lot of the last couple of years and that's not any harm because as a city and as a nation we've been trying to ways to help our citizens to support them with their mental health.
This week is very timely especially given our cities recent history. We can raise awareness for people on how to help themselves and how we can support each other as a community to have positive mental health to live well. It's also important to know that there is help and support there from our fellow citizens when they need it"
Some of the organisations in attendance, as well as ICHAS, included:
What's on for Mental Health Week 2019
There will be key events taking place each day such as music concerts, mindfulness and art workshops, sports & family-friendly events. There will also be lunch-time talks within the city for thirty minutes. 
Below are some to look out for:
Oct 4th 6 pm – The official launch of the week at the Hunt Museum 

Oct 5th 12-4pm – The annual family fun-day on Bedford Row 

Oct 7th 7 pm – An evening with Arnold Thomas Fanning, author of Mind on Fire, University of Limerick. 

Oct 10th 6 pm – Shine a Light on the River, River Shannon Bridges. Everyone is encouraged to bring their phone or torch to 'light up the river' for mental health awareness. 

Oct 11th 6.30pm – The official closing ceremony of the week taking place within St. Mary's Cathedral
You can check out the poster below for more details. ICHAS delighted to be playing a role in this year by holding a workshop during the week. Watch this space for more info on our workshop.
To find out more info about Limerick Mental Health Week check out their Website.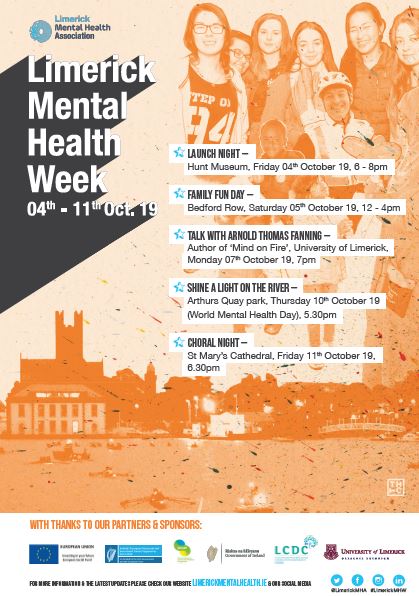 Please follow and like us: