Tips For Students Going Back To College.
It's the start of inductions here at ICHAS. For some, it's their first time being away from home. For others, it's a return for a new semester. The team at ICHAS sat down and went through a couple of useful tips to help you get ready for the new semester.
Prep your Schedule
This is important especially if you're a part-time student working. Find out your timetable as soon as possible and the amount of time you'll need for the various areas. This will help you decide what to do during the week and where to slot things. This is especially important for people who are part-time and working. Juggling work with going back to college can be a challenging period. So once you know your schedule make sure that you can put it into the right places within your week.

The same also goes for full-time students. Prepping your schedule can be a really good starting point in order to make sure that you don't get overwhelmed by too much work or too many assignments.
Set Realistic Expectations
If you look to change 101 things at the one time, chances are that it's not going to happen. Look at what has worked for you before and use this as a benchmark. If you're new to college or haven't been to college for a while it will take some time to get used to the new routine. Setbacks will happen so make sure to not take on too much.
Don't Forget About Your Mental Health
This relates to setting realistic expectations. Make sure that throughout the month of September and the rest of the college semester that you look after your mental health as well as your physical health. If you're not sure how to do this, to begin with, then check out the tweet below where there is a self-care challenge for September.
Self-care is not selfish – you can't pour from an empty cup. Join us for #SelfCareSeptember and find ways to be kinder to yourself as well as others 💕https://t.co/oB2zIQ2bZe pic.twitter.com/Fndx2ORDgQ

— Action for Happiness (@actionhappiness) August 30, 2020

This can be a great starting point for the new semester and something you can do throughout the year as well. But above all, make sure that you don't let stress or anxiety affect your mental health.
Find Somewhere Where You Study Best
Everybody's different, and as a result, we all have different ways of studying. Whether it's in the college, or the canteen, at home, or it could even be a cafe find out where works best for you when it comes to studying. Some might prefer to listen to music or podcasts while studying. Here is a useful playlist and a useful podcast list to check out.
By getting into this routine as early as possible it can be a great way to get stuff done as efficiently as possible.
Bonus Tip: Set your alarm across the room.
Random tip but for anybody who isn't the biggest fan of getting up early in the morning, this is a really useful way to actually get you out of the bed.
A New Semester Around The Corner
Here are just some of our tips. If you have any questions or would like to find out more, why not contact us today.
On behalf of everybody in the college, we would like to wish you the best of luck ahead of the new semester whether you're a full time or part-time student or go heading back to college for the first time in a long time as well.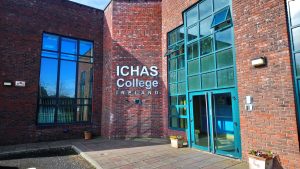 Please follow and like us: