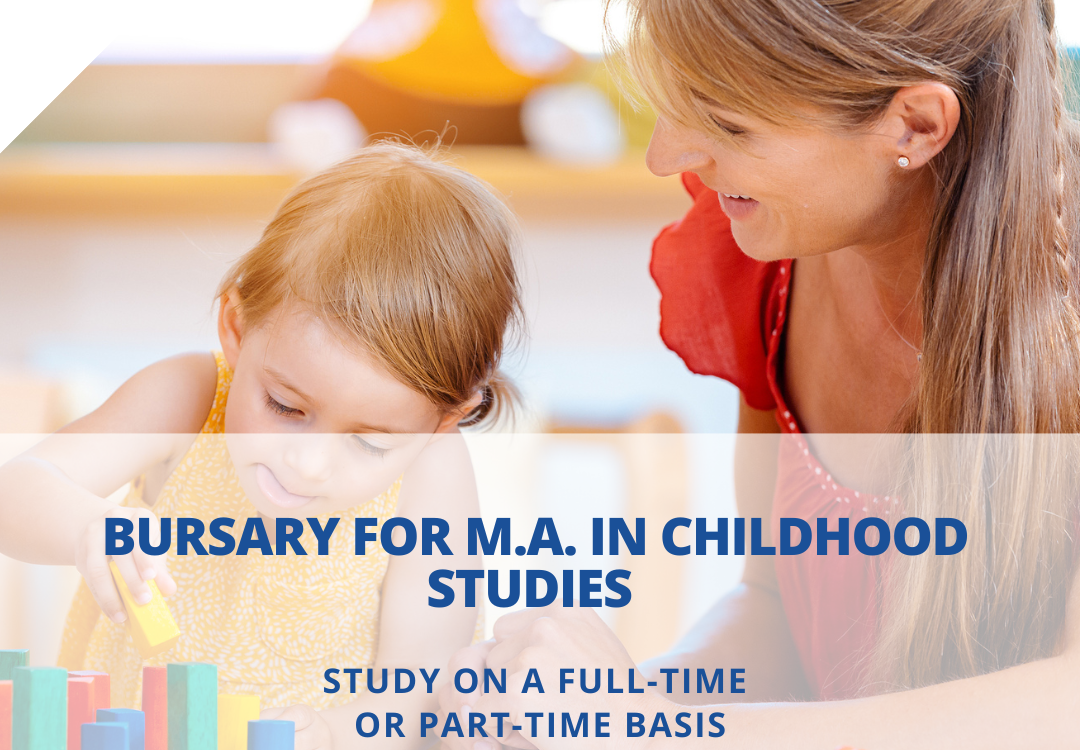 M.A. in Childhood Studies
Bursary information
As part of our affordable access to learning initiative, the college has established a bursary for this programme reducing the cost as outlined below 
For details on international fees, please click here
For details on Irish/EU fees please click here
We are delighted to offer you this  Master's programme in Childhood Studies which is primarily designed for graduates in health, human and social sciences related programmes including such disciplines as social care, social work, early years education and care, nursing, montessori teaching, primary & post primary education,  psychology, counselling, psychotherapy, and programmes in cognate areas who wish to study at postgraduate level on either a full-time (over 1 Year) or part-time basis (over 2 Years), who seek to gain specialist knowledge of childhood and youth with a view to expanding their knowledge and understanding of children and young people under the age of 18.
There is little doubt that the care, education and support of young people have been understood and delivered within a reductionist ethos both in Ireland and internationally. Murphy (2015) noted that until fairly recent times that the care and education for children of pre-school age have by and large been seen by the Irish state as a private matter, and the responsibility of parents.
While there has been an improvement in the integration of relevant services in recent years, children of primary and post-primary school age are dealt with by discreet education structures generally and while the state has improved its support for children ( persons under 18) the history of such support has been mired in controversy historically and still remains somewhat disjointed. For example, the care provided to vulnerable young people has been divided between different state departments and agencies, with little integration of services until more recent times.
Despite policy level commitments to the primacy of the family and parents, there is evidence of increased numbers of children and adolescents in state-provided or funded care. Tusla (2019) for example reported that there were 5,985 children in the Agency's care at the end of 2019, with 91% of those in Foster Care. While that shows a decrease from 2014, Foster Care is only one aspect of Tusla's support structures. The Agency also reported 56,561 referrals to child protection and welfare services in 2019; 3% (1,425) more than in 2018 (55,136). More poignantly, it reported a total of 92,000 children living in consistent poverty and a further 190,000 children at risk of poverty.
Award Title: M.A. in Childhood Studies

Duration:  1 Year (Full Time) (Evening Programme) 2 Years ( Part Time)

Tuition Fees: Bursary Reduction Full-Time (1 year) Tuition Costs reduced from €6,600 to €3,300 Part-Time (2 years) Tuition Costs reduced from €7,600 to €3,800

Start Date: September 2024
Please follow and like us: