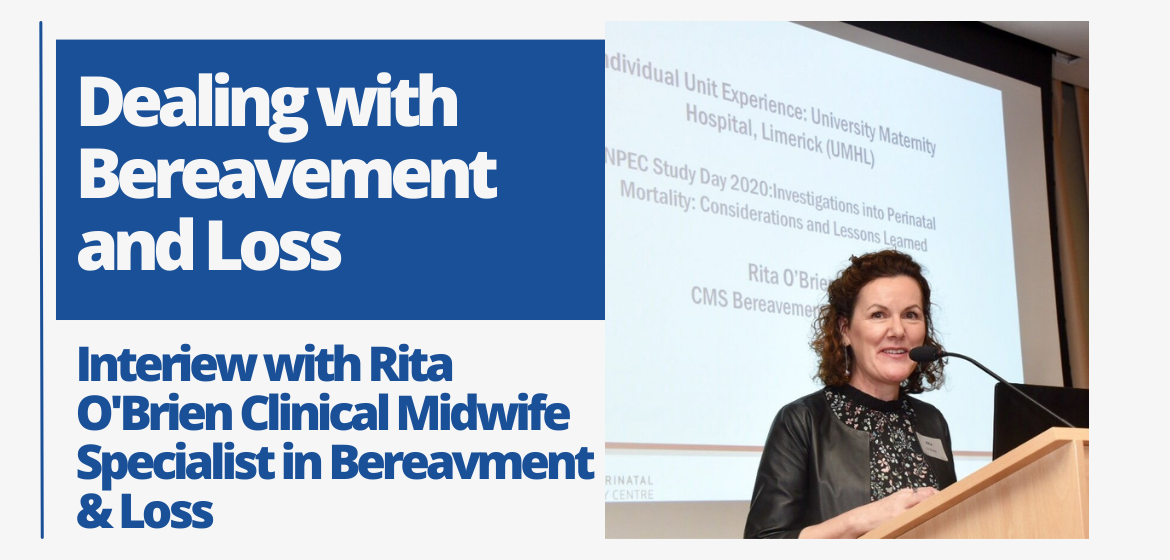 Dealing of Bereavement and Loss Interiew with Rita O'Brien Clinical Midwife Specialist in Bereavment & Loss
Rita O'Brien, a clinical midwife specialist in bereavement and loss recently chatted with Roisin Taaffe about the topic. Rita talked about her role and what inspired her to pursue a career in this specific area. During the discussion, Rita also highlighted how she provides emotional support to individuals and couples when it comes to bereavement and loss. There are also some common misconceptions or stigmas surrounding pregnancy loss/stillbirth that Rita has to frequently address in your work. You can listen to the full interview below.
One of the other key challenges is the delicate balance between providing medical care and emotional support during pregnancies that have complications. An area that is often overlooked is the approach to conversations with families who have experienced stillbirth, balancing their grief and the medical aspects of the situation. Rita also provided advice for friends and family members who want to support a loved one who has experienced this.
This is a timely discussion too as October 15th was Pregnancy and Infant Loss Remembrance Day. This is a day of solemn reflection and support for families who have experienced the profound grief of losing a pregnancy or an infant. Observed annually on October 15th, this day serves as a poignant reminder of the often silent struggles faced by parents and families.
On this day, people around the world come together to remember and honor the babies who were lost through miscarriage, stillbirth, or in the early days of life. Many participate by lighting candles at 7:00 PM local time in their respective time zones, creating a wave of light that encircles the globe.
This simple yet powerful gesture symbolizes unity and empathy for those who have endured these painful losses. Pregnancy and Infant Loss Remembrance Day also strives to raise awareness about the emotional and physical challenges faced by parents who have suffered such losses. It promotes open dialogue about grief, support networks, and the importance of compassionate care from healthcare professionals.
This day fosters a sense of community, reminding individuals that they are not alone in their sorrow. It offers a space for healing, remembering, and sharing stories, ultimately aiming to break the stigma surrounding pregnancy and infant loss and encourage a more empathetic and supportive society.
Please follow and like us: