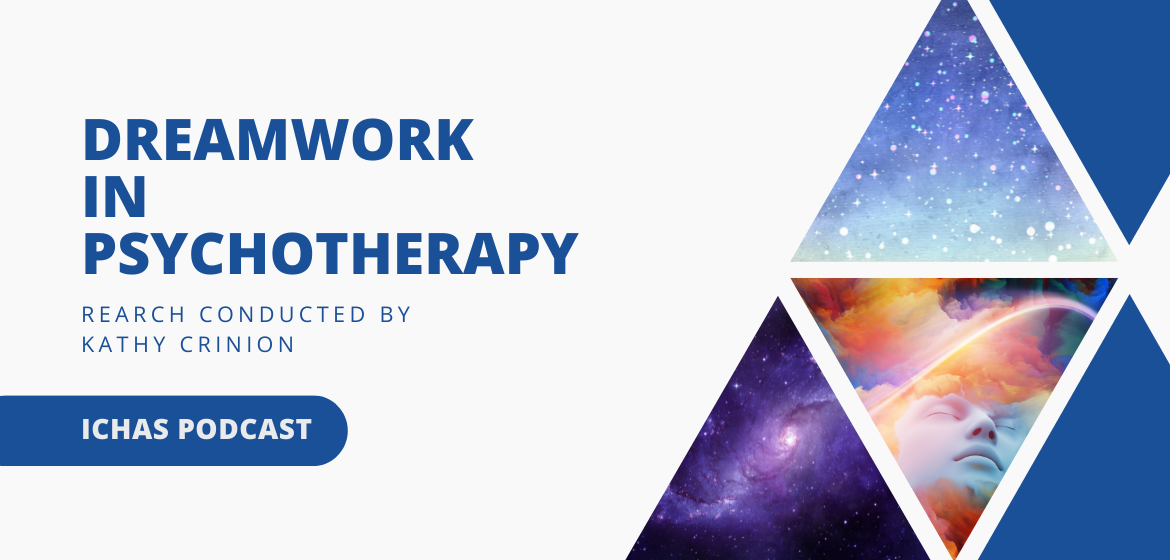 Dreamwork in Psychotherapy, Rearch Conducted by Kathy Crinion
In our most recent podcast episode, Kathy Crinion, Counsellor & Psychotherapist at Willow Avenue Therapy talks about the research she conducted on dreamwork in psychotherapy. You can hear the full episode below.
Background to Dreamwork in Psychotherapy
The study set out to explore Irish accredited counsellors and psychotherapists perceptions and experiences of working with dream material presented by clients, The findings are consistent with those cited throughout the existing literature on dreamwork. However, unique to this research was the personal value placed on dreamwork from a spiritual perspective, and the limitations of dreamwork when the therapist feels unequipped to delve too deep into the dreamwork process due to lack of training.
Due to the paucity of literature in Ireland on dreamwork from the Irish therapist's perspective, this research goal was to contribute to the existing international literature on the use of dreamwork in psychotherapy and offer new information on the Irish therapists understanding of dreamwork and how it is applied in clinical practice.
The study aimed to gain a contextual account of information derived from the real-life experience of the Counsellor/Psychotherapist working with dreams in therapeutic practice, garnering an insight into factors that influence clinical application and how therapists receive and respond to dreams offered by a client in the session.
Recurrent themes were identified in relation to participants' descriptions of Dreamwork. Such as 'a way of accessing the unconscious mind', 'emotions not addressed in waking life', and a 'gaining insight' were used to show participants' understanding of dreamwork. Participants saw Dreamwork as supporting the client at a deeper level giving them self-awareness and personal insight. Self-awareness is one of the desired outcomes in therapy according to research, and according to the findings in this study is one of the main outcomes of Dreamwork, it would evidentially, therefore, be an important tool to use in clinical practice.
The findings of this research suggest that Dreamwork would be encouraged by therapists in their clinical practice if they felt they were confident enough to work with dreams. Those who voiced that they felt confident, welcomed dreams into their sessions. The notable difference between those who welcomed dreams into session and those who somewhat avoided it was the level of Dreamwork training. The overall lack of education in Dreamwork may explain the hesitancy of therapists to incorporate dreams into clinical practice. Of the seven participants selected for this study, only one studied a full module in dreamwork as part of their core training in counselling and psychotherapy. The remaining six participants related that they acquired their Dreamwork knowledge and skills through reading books, discussions with supervisors, online courses, and attending workshops. All participants reported that they saw a need for a Dreamwork module in counselling and psychotherapy training. This begs the question, should Counsellors and Psychotherapists work with dreams without training?
Dreamwork and the Link with Spirituality
Another interesting find from the research was the link between Dreamwork and Spirituality, dreamwork according to the participating Counsellors and Psychotherapists is not just about theories and techniques, it has a deeper spiritual aspect to it, with each therapist having a different slant on what that means, the study shows there is a very clear link with the therapists' personal belief system and working with dreams, which prompted this researcher to ask was spirituality important to Dreamwork. The findings would appear to show that it is, which in turn sees Dreamwork as not just a technique or approach to use in therapy but one which goes deeper than academia and therapeutic methods.
In summary, Dreamwork can support resistive clients and enable the therapeutic relationship. It can elicit information previously withheld by the client that may have been difficult to talk about. Dreamwork can also guide the assessment process and the identification of underlying issues that may influence the client's cognitive processes. Dreamwork is successful at aiding a client's self-awareness and insight which can lead to profound cognitive and behavioral changes for the client. Although therapists are eager to work with dreams and integrate dreamwork into practice on a regular basis, there is a lack of confidence in therapists when a dream is offered by a client for unwrapping. It seems that the principal reason counsellors and psychotherapists shy away from working with dreams in clinical practice is the result of a lack of training.
About Kathy
Kathy is a Counsellor & Psychotherapist with an academic background in Developmental, Cognitive, and Social Psychology, with many years of experience in educational settings and social work. She has devised and delivered courses for a number of organisations and also helped facilitate several courses run here at the college on Dreamwork in Psychotherapy. Check out the Willow Avenue Therapy website today for more details.
Please follow and like us: