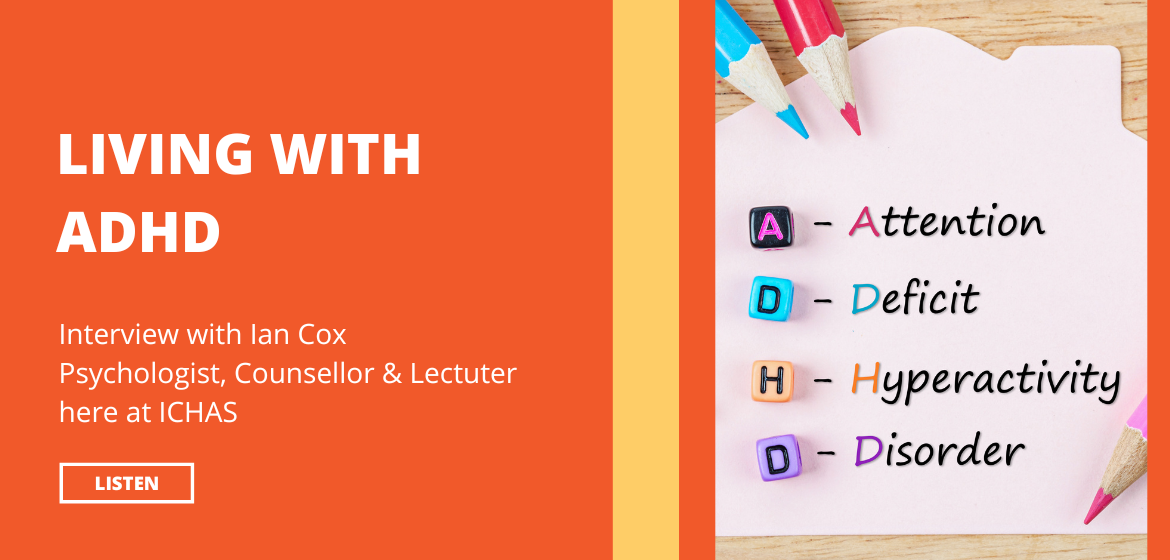 Living with ADHD, Interview with Ian Cox
In the recent episode of the ICHAS Podcast, we chatted with Ian Cox about ADHD a condition he was diagnosed with.
ADHD is a condition around which there is a lot of confusion and during the chat, Ian dispelled some of the common myths associated with it. Some of the most famous people in history from Leonardo Da Vinci to Mozart to Picasso all had the condition and Ian also chatted about what it's like to live with it and how people experience bursts of enormous concentration followed by the complete opposite, the big challenge is it's out of the control of the person when these happen.
Ian also highlighted some of the key areas he wants people who don't have the condition to understand and also shared some useful resources for people to learn more. You can hear the full episode below.
You can learn more about the condition on the ADHD Ireland website the organisation is dedicated to providing up-to-date information, resources, and networking opportunities to individuals with ADHD, parents of children with ADHD, and the professionals who serve them.
Ian also recommended the book ADHD: A Hunter in a Farmer's World. Written by Thom Hartmann it explains that people with ADHD are not disordered or dysfunctional, but simply "hunters in a farmer's world". They possess a unique mental skill set that would have allowed them to thrive in a hunter-gatherer society . His book also offers concrete non-drug methods and practices to help hunters embrace their differences, nurture creativity, and find success in school, at work, and at home. Thom also Reveals how some of the world's most successful people can be labeled as ADHD hunters, including Benjamin Franklin, Thomas Edison, and Andrew Carnegie.
About Ian: Ian is a psychologist and counsellor based in Co. Wexford. Ian works primarily with young adults at his private practice and is also a board member of The National Association of Pastoral Counsellors and Psychotherapists (NAPCP). Ian was also diagnosed with ADHD.
Please follow and like us: