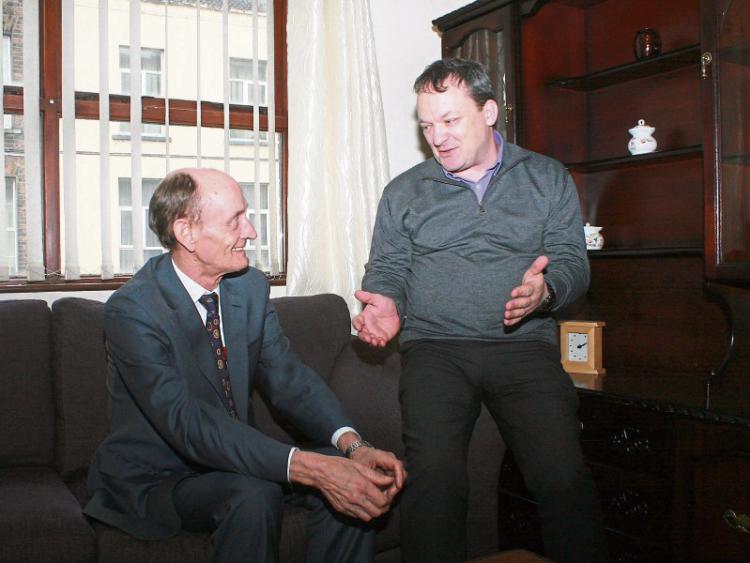 Addiction counsellors on the frontline in Limerick city: 'We've been to funerals, but there's hope for many'
Limerick's only free addiction treatment centre continues to see its numbers rise year-on-year, with a spike in gambling and cocaine use on the rise again, but there is help at hand – and there is hope
ALAN Galvin and Liam Ryan have seen the very real consequences of addiction in the past four years since they founded Saoirse, Limerick's only free addiction treatment centre.
They have attended funerals, and seen the death notices in newspapers of clients who suddenly slipped off their radar, and back into the abyss of addiction.
But equally, they have seen the pendulum swing from despair to hope for the majority of their clients, who once feared a very different fate.
Under pressured financial resources, they have seen the numbers seeking their services continuing to rise.
In 2016, Saoirse's predominantly volunteer-led workforce of 13 met with 357 clients, up from 295 in 2015. Last year, 62% of their clients were male, 38% female, and 60% aged from 31 to 35.
Alcohol remains the most predominant drug, followed by cannabis and cocaine, and benzodiazpine, which are relaxants.
Heroin users represent their fifth largest group, followed respectively by those with addictions to prescription medicines, including Xanax and Librium; codeine, speed, crack cocaine, cleaning agents and MDMA.
Some 53% of their clients are poly-drug users, and 42% of their clients have legal difficulties, from drunk and disorderly offences, to possession charges.
They expect to see over 400 clients this year, and the number could be higher still, given that a quarter of their clients failed to make appointments they once had the intention of keeping – such is the nature of addiction.
The centre received 2,163 phone calls in 2016, up from some 1,500 in 2015. Then there are the other statistics that are much harder to quantify.
"We believe five to 10% of our clients die by suicide or misadventure. About 50 to 60% would report suicidal ideations as a current experience. We've been to funerals – it's sad. We went to our first funeral on January 30, 2013, and there has been many since," said Mr Galvin, project manager of the centre on Davis Street in Limerick city.
"Some clients would attend for a period of time. Then we may not hear or see from them again, and then you flick through the newspaper, and see a death notice or an anniversary."
Mr Ryan, the centre's clinical manager, describes Saoirse as the "A&E of addiction service".
"We don't have anyone coming up the stairs who thinks 'I don't know why I'm here, because life is so good'.
"We're dealing with crises, family intervention, children in care, mental health issues, people contemplating suicide. One man called in to us on his way down to the bridge, to the river [Shannon]. Quantitatively, how do you put a price on that? You can't," he told the Limerick Leader.
Both men previously worked in Aljeff, which closed its doors in December 2011, and thereafter ran a contingency service for the Health Service Executive up to March 2012. Since then the centre has helped free hundreds of people from the throes of addiction.
"I think we punch way above our weight," added Mr Galvin.
"We have become a primary service of choice, though our funding doesn't reflect that. Our numbers have been ramped up since day one, without any increase in resources. We're engaged with a demographic in the city that wouldn't have any other option other than to avail of a free treatment centre," he explains.
Distinct from a lengthy and potentially costly residential placement, their free outpatient service allows clients to manage their lives to a greater degree, and avoid, in some cases, seeing children being placed into State care.
They have seen the resurgence in certain drugs – particularly cocaine and gambling.
"It seems to go in cycles. Cocaine is back again, as is gambling. The devastation with gambling is incredible, because it's so easy to gamble now, particularly on your phone, and it's pushed in your face all the time," said Mr Galvin.
"We have had people show us their bank statements, and all you see is Paddy Power, Paddy Power, Paddy Power.
"The gambler hasn't changed that much, but it's the medium that has changed, and it is the online forums, with email notifications, where there's now huge target marketing. It's like sending an alcoholic a Budweiser advert to keep them addicted. Not only do you have smart phones, but you have smart marketeers."
Mr Ryan is at pains to point out the very nature of the gambler is quite distinct from other addicts.
"With alcohol and other substances, after a while people say they have to stop. The difference between that and gambling is that the longer someone is gambling the more they feel they have to keep gambling to win back what they have lost, and they actually believe that 'Today is going to be the day. This is the bet.'
"They don't come to a point on their own saying 'I need to stop gambling'. The man who wakes up in the morning, sick from drink, will say 'I've had enough of this.'
"The gambler has a completely different perspective, in that they genuinely believe that 'I am the one who is going to make the million [euro].' It's not until there some external consequence, and then, and only then, they will stop."
Addiction, he says, "doesn't understand social class".
Their clients have included everyone from all professions, from university lecturers, gardai, army personnel, nurses, solicitors, and many in the health industry themselves.
"Everyone knits together because they all have one thing in common – addiction. Regardless of where a person is from, each and every person sitting on that chair has the same problem. Addiction is not selective. It levels the playing field."
Both agree that there should be much tighter regulations around the sale of alcohol, and awareness campaigns with greater impact, though they feel that the drink driving TV adverts have largely been ineffective, despite their shocking nature.
"If they invented alcohol today, it would be banned," said Mr Ryan. "You have a psychoactive substance in the supermarket right next to food, and we have a social acceptance of alcohol. Drugs are illegal and illicit, but not alcohol. We can't go back to Prohibition, but we've lost the insight to suggest it's a very harmful substance.
"You have visual warnings on cigarettes, but you don't have them on a can of beer. You don't see a car smashed, or a family weeping at a graveside."
In relation to the hard-hitting anti drink driving campaigns, Mr Galvin feels that inspite of their graphic nature there is a denial defence mechanism built into the genes of an addict, which makes them feel as if they are immune to such consequences.
"There is an attitude of 'That will never happen to me. That's just an advert on TV. People are not listening or learning regardless of the campaigns on TV."
Saoirse's work aims to change that – the lens of an addict who views the world through an altogether different prism, from thinking 'That could never be me' to 'Yes, it could be you, but it doesn't have to be.'
Please follow and like us: