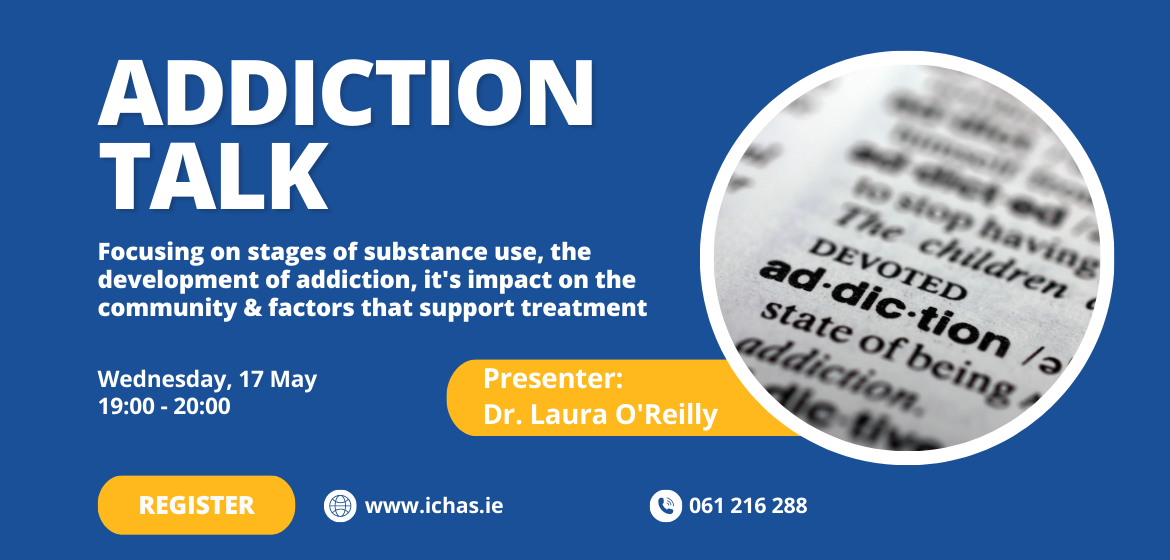 Addiction Talk with Dr. Laura O'Reilly
7:00 pm - 8:00 pm
Online
Public
ABOUT EVENT
Hosted online by Dr. Laura O'Reilly this talk will focus on the area of addiction, specifically:
An overview of the stages of substance use
Consideration of the factors that contribute to the development of addiction
The impact of addiction on individuals, families, and the broader community
Overview of the factors that support treatment and rehabilitation seeking within communities
If you're interested in attending this talk then register today.
About Dr. Laura O'Reilly 
Dr. O'Reilly is the CEO of a community drug and alcohol service and holds a Ph.D. from the School of Social Work and Social Policy, Trinity College Dublin.  Laura has extensive practice experience working in community-based drug and alcohol services.  Beyond her coordination and delivery of education, training, and rehabilitation services, Laura's research interests include issues related to stigma, substance use initiation pathways, drug treatment, and rehabilitation. Laura has a particular interest in the progression pathways of people using substances into education and employment, as well as the capacity building of communities to respond effectively to drug issues.
Please follow and like us:
EVENT SPEAKERS
Registration for :
Addiction Talk with Dr. Laura O'Reilly
Error: Contact form not found.
Register Today