ICHAS at Griffith College Dublin
ICHAS in association with Griffith College Dublin is offering a range of Counselling & Psychotherapy courses in Dublin. Courses are based at Griffith College's centrally located Dublin campus on the South Circular Road.
ICHAS is at the forefront of the education and training of Counsellors and Psychotherapists in Ireland, providing an extensive range of Counselling and Psychotherapy Courses. All our courses in Counselling and Psychotherapy are QQI accredited and awarded to include; introductory Certificate Courses in Counselling Skills and Psychotherapy studies; Undergraduate Courses in Counselling and Psychotherapy and related studies; Post Graduate and Masters Courses in Counselling and Psychotherapy. All our Counselling Courses and Psychotherapy Courses are offered in both Dublin and Limerick, and also nationally through our Blended Learning Environment.
All the Counselling and Psychotherapy Courses available at Griffith College Dublin are presented directly by ICHAS. As well as our own excellent support services students will also have access to a full range of facilities available on the ICHAS Dublin Campus at Griffith College. The original Dublin campus buildings date back over 200 years to their construction in 1813. During the past two centuries, they have regularly played a part in both local and national political events. Since its purchase by Griffith College in 1991, they have sought to combine the rich history of the buildings that surround us with the academic objectives of the College. The site has seen significant investment in student accommodation and a conference centre complementing the original buildings. Full library and canteen facilities are available to all ICHAS students on site.
If you are interested in studying any of our Counselling and Psychotherapy courses in Dublin please feel free to Contact Us directly or by phone at 061 216288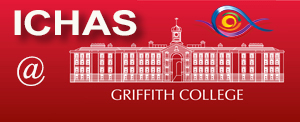 Our Programmes and Courses