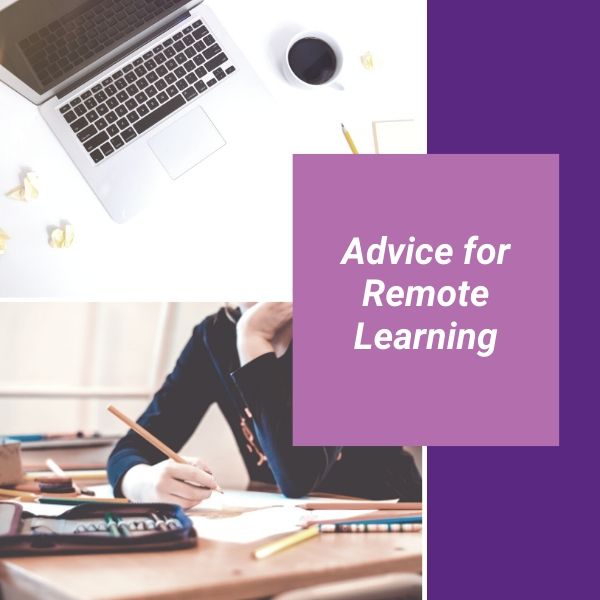 Advice from Staff at ICHAS when it comes to Remote Learning
The last few weeks have seen huge changes for many people, especially when it comes to education. The team here at ICHAS has put together some useful advice to help you when it comes to doing remote learning.
Apps and Tools to Help With Remote Learning
Jonathan Flynn, Educational Technology Manager at ICHAS
Here are some useful apps and tools to help you out when it comes to remote learning and also interacting with groups.
Google Docs or any sort of collaborative doc tool is so useful to help you stay organised, share work and maintain collaboration with others in your class
MS Teams/Zoom/Hangouts are all useful tools for group meetings but also for maintaining social links with friends but in and out of college
Reminder/Calendar App on your phone. This will help you keep track of due dates, get organised and invite collaborators or colleagues to meetings or documents. There are also default calendar apps on your Android or iOS phone that are surprisingly flexible and useful when you scratch beneath the surface. 
If you have an android and Gmail account you can sync your phone to 
All with one Gmail account
Additional app you can use Trello: An easy to use organisation app/website for keeping track of projects. Flexible but powerful, it is even used for project management in enterprise.

General Tips for Remote Learning
Danny O'Brien Digital Marketing Manager and Lecturer
For a lot of people, their daily lives have changed significantly here are some general tips to help you out when it comes to remote learning
Have a routine – This is really important as things can fall through the cracks where you don't have a routine. Break your day up into blocks and stick to these times. Whether its a block set aside for breakfast then lectures online then lunch, then college work and then dinner create a routine that works for you. 

Have boundaries – What I mean by this is physical boundaries. Have a room or desk where you do college and general work. This can help you when it comes to balance. By having a spot in your house where you work the benefit is when you move away from it you can switch off. This is extremely important as anyone who does remote work can attest to your work can tend to bleed into other areas of your home life and you end up doing work when you want to relax.

Don't forget to exercise – This is one of the most important things to do. If you had an exercise routine that has been disrupted find a new approach. This is where the internet is so useful. If you're wondering where to start here is a great yoga video from Sara Cory who did a series of classes in the college last year. The one big benefit of this class as well is that it's the opposite of sitting, something a lot of us have been doing more of recently.

Additional tip – Have different sets of tabs. What does this mean? Simple, when doing work on your laptop/tablet use certain websites. Then when you're not working close these tabs and open up "hobby websites"

This can be for example:

Working Tabs

Outlook

One Drive

The Student LMS

Gmail

Google Drive

Not Working Tabs

Facebook

Twitter

YouTube

Netflix etc

This can help create those boundaries I mentioned earlier. The mental boundaries can be as important as the physical ones.

These are just a few of the tips we have. If you have any questions about studying remotely then why not contact us today. Stay safe
Please follow and like us: