Since G.S. Hall first envisaged adolescence as a developmental period characterised by "Storm and Stress", teenagers have been described in various ways. These include obstreperous, moody, unpredictable, self-obsessed, rebellious, conflictual, impulsive, strong-willed.
The adjectives are as colourful and seemingly interminable as the noun they describe.  Within this perspective, parenting is akin to a form of bomb disposal where the well-meaning adult, partially unsighted by the droplets of sweat rolling down their increasingly furrowed brow, carefully disentangle the labyrinth of wires that is adolescence in the hope that – without warning – it won't all blow up in their face.
While it might be argued that this perspective has been somewhat reconsidered over the past twenty years, it is clear from working with parents and those who work with young people that a strong sense of worry and anxiety persists about the wellbeing of teenagers in the digital age.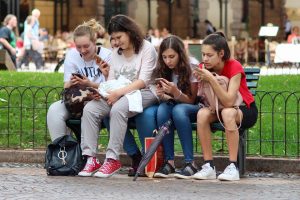 Teens and Risk
The persistence of this conceptualisation of adolescence is partly attributable to a tendency to associate adolescence with risky behaviours.  Imagined by society, forged in academia, disseminated (and oftentimes exaggerated) through the media, addressed through policy and practice and agonised upon by parents, risk has emerged as one the dominant conceptualisations of adolescence.  It is a remarkably versatile idea not least because of its perennial topicality and unwavering popular appeal, encompassing the array of "usual suspects" such as:
Drugs
Alcohol
Sex
Suicidality
Self-harm
Crime
Leisure
However, while it might sometimes seem that these issues have the constancy of change and the durability of graphene. Our understanding of how adolescents experience and perceive risk has been significantly illuminated over the last decade in particular.
Existing Research on Risk
The pioneering research of neuroscientists such as Valerie F. Reyna offers challenging insights and revisions into the adolescent mind with assumed implications for policy and education. This built on theoretical foundations such as:
Want To Learn More?
The reconsideration and evaluation of these issues and findings form just one part of one module on the M.A. in Childhood and Adolescents at ICHAS – what better way to spent a damp evening in November.