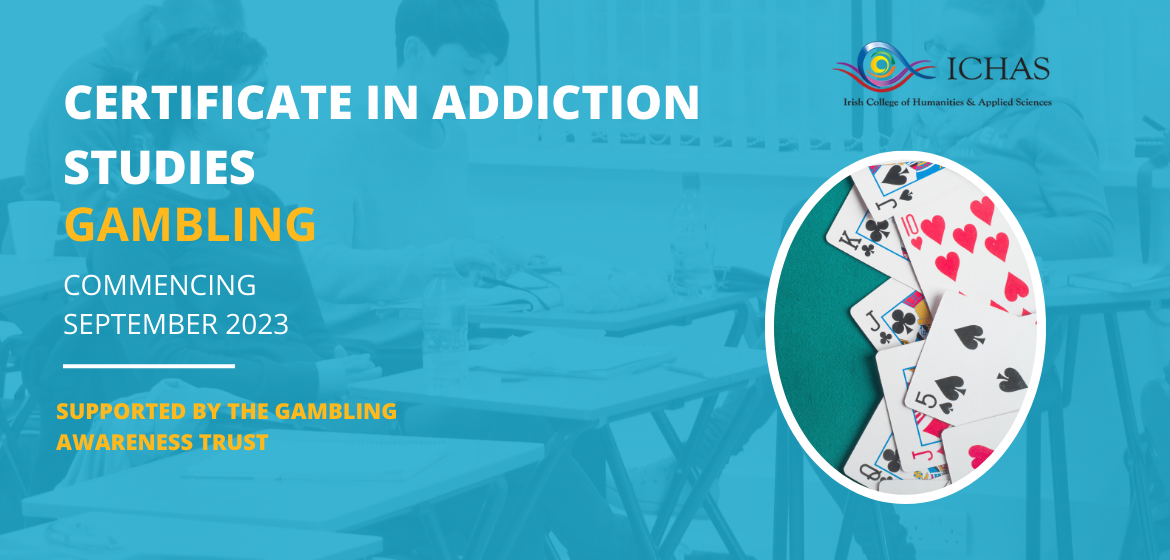 Postgraduate Certificate in Addiction Studies (Gambling)
This Certificate in Addiction Studies (Gambling) is validated by QQI (Quality and Qualifications Ireland) at Level 9 on the National Framework of Qualifications and is 30 ECTS.
The programme specifically aims to increase practitioner  awareness and enhance relevant skills and competencies to engage with those with Gambling Addiction and to support them in their journey towards recovery The programme is delivered by  lecturers who have both therapeutic experiences  of working in an addiction environment, but more specifically, gambling addiction.
The programme is supported by the Gambling Awareness Trust for 30 applicants where 70% of fees will be funded, ICHAS has also established a fund to supplement this funding from the Gambling Awareness Trust which has already been incorporated into the fees of €2,400 and will reduce the cost to funding recipients to €500. Students can redeemed directly from ICHAS upon completion of the course. Applicants who wish to apply for this bursary can do so via the "apply now" button.

[/vc_column_text]
[/vc_column][/vc_row]
Award Title:  Certificate in Addiction Studies (Gambling)  – QQI Level 9

Duration: 12 Weeks (Full-Time)  / 24 Weeks (Part-Time)

Tuition Fees: €2,400 (This programme is supported by the Gambling Awareness Trust for 30 applicants where 70% of fees will be funded.)

Start Date: January 2024
Please follow and like us: