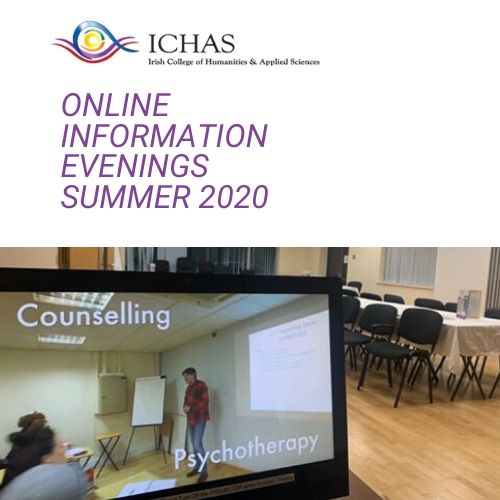 ICHAS Open Days Moved to Online Information Evenings
The ICHAS Open Days that were originally scheduled to take place this summer at ICHAS campuses both here in Limerick and in Griffith College Dublin have been changed to Online Information Evenings.
These information sessions will be taking place in July, August, and September.
As with other areas of the college such as the delivery of courses for full-time and part-time students we have moved our open days online. This is in line with our action plan as a result of COVID 19. 
Benefits of Online Information Evenings
There are a couple of key benefits to moving these events online.
The health and safety of participants – As highlighted in our action plan our primary concern must always be our health and that of everyone around us.

Save time – This is one of the biggest benefits of moving online. There is no commute and in order to attend all you need is a good internet connection

Sessions can be recorded – Such events can also be recorded and rewatched thus making it very beneficial for attendees if they have any areas they want clarified to go back over what was discussed. You can also watch it when it suits you as well.

Multitask – If you're looking for additional information on a course the answers are just at your fingertips and you can research online while also attended the information session
Why attend our online information evenings? 
These sessions help attendees in several different ways:
They are a great way to find out more about studying with ICHAS 

You can explore our range of study options available such as Full-time and Part-time Study You can learn more about our blended learning which much like our information sessions allow you to log in to live lectures from home 

These sessions allow you to log in and speak with faculty members and will give you an idea of how blended learning is used
When are they taking place?
Here is the schedule for the information evenings taking place in July, August & September:
Wednesday, July 15th from 6 – 7.30 pm

Wednesday, August 12th from 6 – 7.30 pm

Wednesday, August 26th from 6 – 7.30 pm

Wednesday, September 2nd from 6 – 7.30 pm

Wednesday, September 9th from 6 – 7.30 pm
If you're interested in attending then check out our events page.