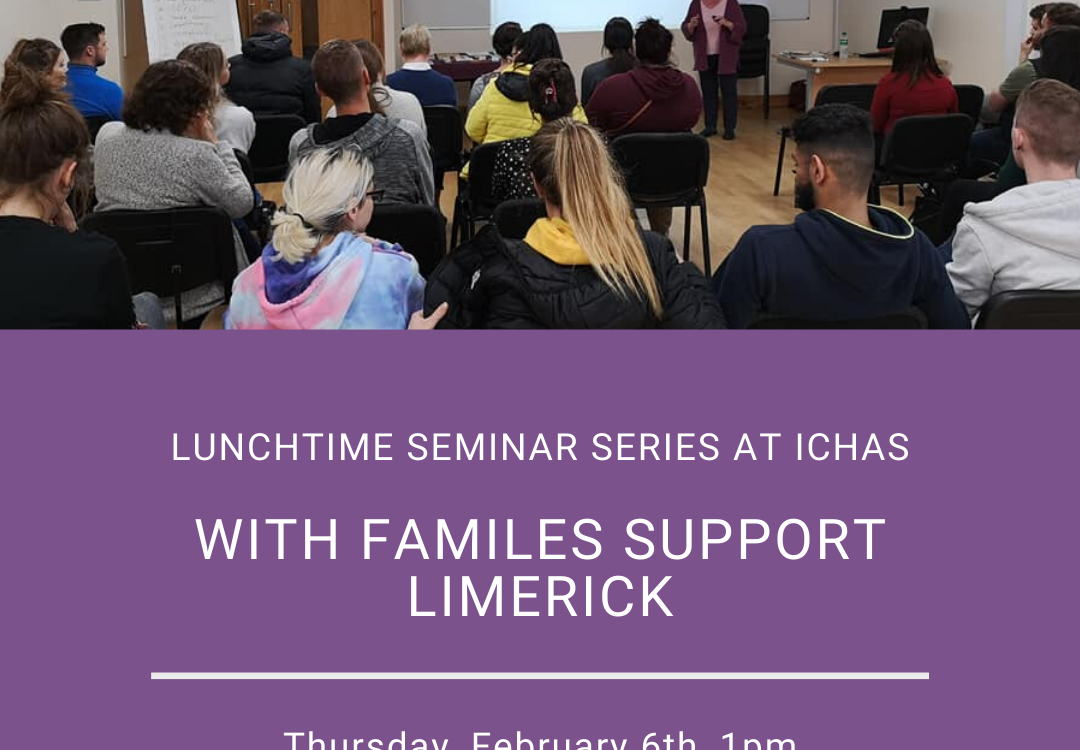 Lunchtime Seminar Series With FAMILES Support Limerick
We're delighted to announce that this semester we will have a series of Free lunchtime seminars here at ICHAS. First up is FAMILES Support Limerick. This will take place on Thursday, February 6th at 1 pm in Room 10 at our campus in Limerick.
What do FAMILES do?
FAMILES stands for Families and Men In Life Experiencing Separation and is a support & information group is based  in Limerick. The group helps people who are separating. They are a specialist group primarily for men but they also support each family member.
By providing the service to family members it creates a holistic effect on the members. Also, working together brings about a better outcome post divorce and separation. 
Statistics have shown a big increase in suicide in the region and family breakups play a part in this. FAMILES work together with many recognized state and private qualified and accredited professionals already supporting the community.

What to expect at the seminar?
Here's the agenda:
Welcome address

Who are FAMILES

Where did they come from

FAMILES policies

What they offer

What they believe

Where you can find them

Effects on the family
Part One
In-camera rule

Types of courts

Judicial Separation

Divorce in Ireland

Civil Partnership

Nullity

Voidable Marriage
Part Two
Guardianship status of Father

Custody of children and cohabiting couples

Same-sex couples

Grandparents

Enforcement order

Maintenance 

Mediation
Q&A
If you want to learn more about this seminar contact us today.
You can also find out more about FAMILES on their website.