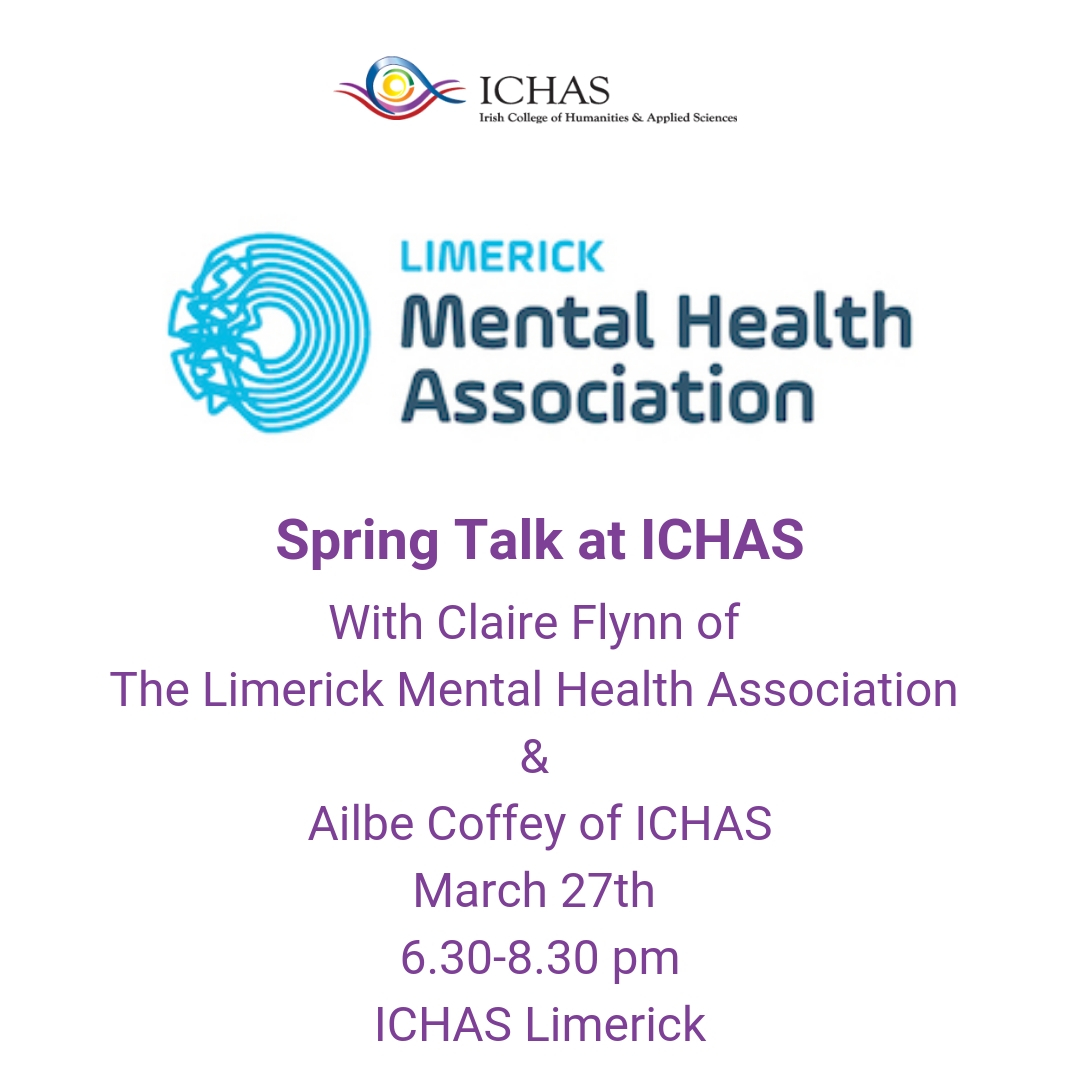 Spring Talk with Limerick Mental Health Assocation
Following on from our Spring Talk with the Community Crisis Response Team Limerick, our next talk will be taking place on March 27th at ICHAS from 6.30pm to 8.30pm. The theme is mental health and we're delighted to have not one but two speakers on the night, Claire Flynn of the Limerick Mental Health Association and our very own Ailbe Coffey.
The Importance of Mental Health in the Region
The Limerick Mental Health Association promotes positive mental health across Limerick City and County. Founded in 2002 they are located in the heart of Limerick City. Their mission is simple, to have a Limerick where people value their own and each others' mental health. They also want to ensure that when people experience mental health difficulties they can recover their wellbeing and reach their full potential within an informed and supportive community.
Last year they ran an extremely successful week of events and talks. One of the highlights was the Shine a Light on the River for Mental Health.

Claire will chat in detail about the association as well as on the importance of focusing on your mental health.
Ailbe Coffey of ICHAS
Ailbe is a Senior Lecturer and Program Lead on the undergraduate BA program in Counselling Skills and Psychotherapy Studies. He is also an experienced accredited counsellor and clinical supervisor for several years. He holds a B.A. (1st Hons) degree in Counselling and Psychotherapy in addition to a Masters of Arts (1st Hons) degree in Clinical Supervision in Professional Practice. He has worked in industry management for 13 years and since 2002, he has refocused his career on the helping and counselling professions. He will provide great insights into the area of mental health on the night.
Want to Attend the next Spring Talk?
If you want to find out more about attending our talk why not contact us today.
You can also follow the LMHA on Facebook, Twitter and also on Instagram.