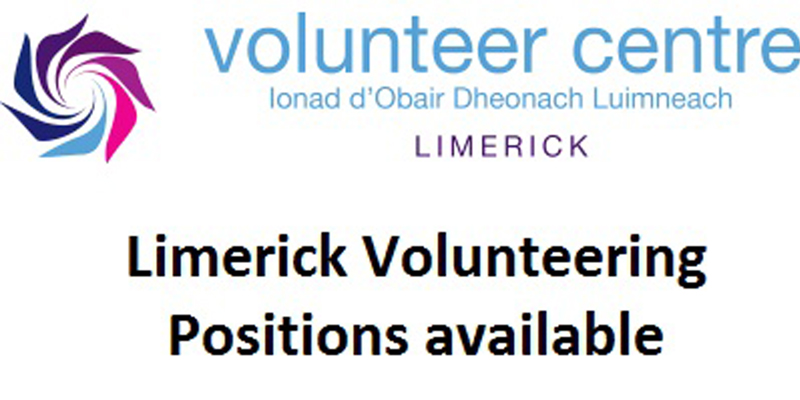 New Volunteering Opportunities in Limerick
New Volunteering Opportunities in Limerick
Below are a few volunteering opportunities that have become available in the last few weeks. For a full listing of volunteering opportunities in Limerick.
Clare's Wish
Clare's Wish Foundation is a Limerick based charity which grants wishes for Adults with a terminal or life threatening condition.
Clare's Wish needs the help of Shop Assistant Volunteers to assist with their new charity shop in Groody, Casteltroy.
Volunteer Duties will include: 
* Keeping the shop floor tidy at all times
* Greeting customers and thanking them for their donations
* Sorting all donations in relevant sections
* Stock display
* Till work
More Info HERE:
———————————————————————-
Community Crisis Response Team
Community Crisis Response Team is an initiative which provides suicide interventions to those in distress.  We are a non-profit, voluntary organisation and our aim is to respond to anyone in our area who may be at risk of taking their own lives.
Community Crisis Response Team need the help of Suicide Intervention Mobile Responders.
Responder Volunteers duties include:
* Carry out suicide interventions as per training.
* Respond immediately with your assigned partner to those in distress from 5pm-6am when on duty.
* Carry out community patrols.
People who wish to volunteer as a team member must be over 21 years old with a full driver's license. You must have either safe TALK or ASIST certification and be willing to complete CCRT's Child Protection and Land Based Water Safety training.
—————————————————————————–
Newcastle West Community Centre
Newcastle West Community Centre  provides a facility in the community where people can come to play sports, hold meetings, enjoy our new youth club etc.
Craft Facilitator needed to host an evening class for people in the local community.
The class are especially interested in learning about flower arrangement, wreath making and DIY decorations themed around Christmas.
All other ideas and suggestions are also welcomed. We are very flexible around volunteers schedule.
———————————————————————-
Limerick Civic Trust
Limerick Civic Trust is a self-funding charity, which initiates and undertakes projects for the general improvement of Limericks environment in conjunction with local authorities, state agencies and other interested parties.
Limerick Civic Trust need the help of an Exhibition Tour Guide Volunteer.  The volunteer tour guide will be asked to guide and inform the public on a number of key exhibits and features in and around the medieval quarter of Limerick.
—————————————————————————
Enable Ireland
Enable Ireland  provides free services to children and adults with disabilities and their families.  Our mission is to work in partnership with those who use our services to achieve maximum independence, choice and inclusion in their communities.
Shop Floor Volunteers needed to help with Enable Ireland shop on William Street Limerick.
Duties will include 
* Preparation of stock for sale
* Sorting donated garments into saleable stock.
* Merchandising stock and presenting stock in a neat and attractive manner.
* Using the Till
* Dealing with customer queries
* Customer Service
* Keeping the shop floor tidy at all times
Volunteers will be asked to commit one half day shift per week.
More Info HERE:
———————————————————————-
Caherconlish Youth Group
Caherconlish Youth Group  aims to support and encourage youth people to be active participants in their local communities and in the shaping of their futures.
Youth Club Volunteers needed to help in the club.  Volunteers within our club will be asked to interact with the young people in a non-formal capacity, assist the club support worker with the delivery of any number of interesting and fun programmes, and to suggest activities and programmes that can offer young people the opportunity to assume a leadership role within their group.
More Info HERE:
For more information on the above roles or to inquire about other volunteering opportunities, please visit www.volunteerlimerick.ie or make an appointment to visit:
                            Limerick Volunteer Centre, 
                          Unit 40, Tait Business Centre, 
                                     Dominic Street, 
                                           Limerick.
                       Email: info@volunteerlimerick.ie
                                   Ph: 087-7387481