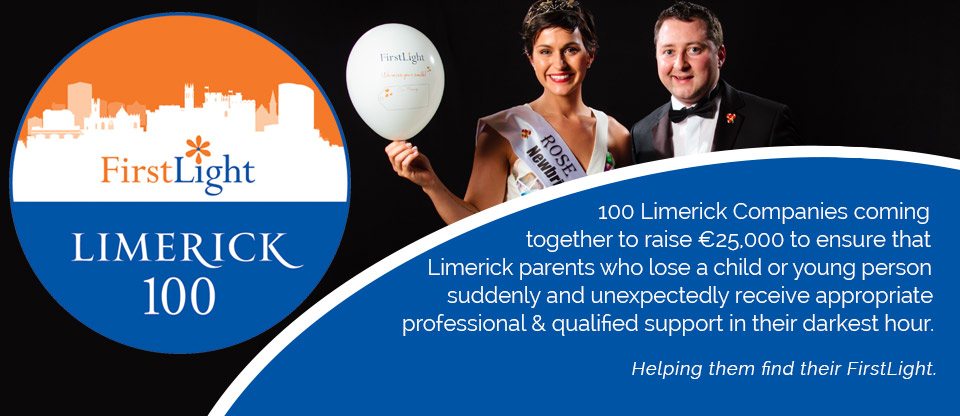 FirstLight Fundraising Campaign Limerick
FirstLight Fundraising Campaign Limerick
First Light are appealing to 100 Limerick companies to come together to raise €25,000 to ensure that parents in Limerick who lose a child or young person suddenly and unexpectedly receive appropriate professional and qualified support in their darkest hour. Helping them find their FirstLight. ICHAS are very proud to sponsor this wonderful organisation. Please visit http://firstlight.ie/firstlightlimerick100/ for more information regarding Donating.
FirstLight (formerly The Irish Sudden Infant Death Association) provides a bereavement support service to parents, families, professionals and communities who experience the sudden loss of a child or young person.
The support is delivered by professional and qualified staff. The service is client centred taking in account the various individual needs of families.
Losing a child of any age is the most traumatic event a parent can go through. When the death is sudden and unexpected, feelings of shock, disbelief, guilt, anxiety and sadness are experienced.
This is why FirstLight is here. FirstLight have professional and qualified staff to empower parents, families, professionals and communities after the sudden death of a child or young person.
FirstLight is a voluntary organisation set up 1976 by bereaved parents to offer support to parents and families of children who have died as a result of Infant Death Syndrome (SIDS) (more commonly known as Cot death). The organisation was founded in 1977 by a group of bereaved parents because there was no service to support them at the time.
Primarily FirstLight offers support to bereaved parents and their families , irrespective of the cause of death of the child. This is given through direct access to our resident psychotherapist who offers counselling and guidance. FirstLight also offers participation in residential groups to all newly –bereaved parents, family days and other appropriate support selected on the basis of an individual's personal needs and wishes.
Secondly FirstLight provides information to parents and families as well as organisations or groups who interface with parents and families who have suffered a sudden bereavement (e g teachers, gardaí, crèche owners, community nurses, priests, doctors etc.). FirstLight has produced a number of information leaflets, questions and answers booklets – often in co-operation with the Health Service Executive – and FirstLight staff have addressed individual interest groups (including doctors and trainee public health nurses on Cot Death and its effects of the sudden death of a child on the bereaved.
Thirdly FirstLight encourages and supports research into the causes – and methods of reducing the risk of Cot Death.
FirstLight founded and runs the National Paediatric Mortality Register (Formerly National SIDS register) and publishes an analysis of its findings biannually.
FirstLight was founded as a voluntary organisation in 1977 and in 1986 was formally registered as a Charity with full charitable status. While professional staff are now employed to carry on the full-time work of the FirstLight, the charity continues to be controlled and run by a  Council of volunteer members, the majority of whom are always bereaved family members.
 For more information or if you wish to Donate please visit Firstlight website at http://firstlight.ie/about/