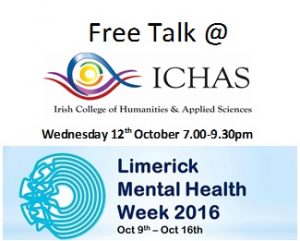 Free Talk at ICHAS for Limerick Mental Health Week
Free Talk at ICHAS for Limerick Mental Health Week
As part of Limerick Mental Health Week, ICHAS will be hosting a FREE talk on Wednesday 12th October 2016. The talk will be conducted over two parts:
Part one – 7:00-8:00pm Understanding Stress in Life with Prof. Denis Ryan
Short Tea Break – 8.00-8.25pm
Part two – 8.30-9.30pm Mindfulness with Christine Beekman
Professor Denis Ryan will be discussing the management of stress in life situations
Christine Beekman will be focusing a Mindfulness session based around Worry or Anxiety
The talk will be held in the college at ICHAS, Walton House, Lonsdale Road, Castletroy, Limerick
If you wish to book and secure a place for either of these Free talks at ICHAS please email me at dolores.mcmahon@ichas.ie or phone 061 216288 to confirm. Attendees can also turn up on the night with no prior booking and will be seated pending available spaces.
There are many more Free talk and events being held by different organisations in various locations over the duration of Limerick Mental Health Week: Please see calendar below and link to further information
https://www.facebook.com/LIMental2016/?hc_ref=SEARCH&fref=nf